"The mind adapts and converts to its own purposes the obstacle to our acting. The impediment to action advances action. What stands in the way becomes the way." -Marcus Aurelius, Meditations
"A flute without holes is not a flute. A donut without a hole, is a Danish." -Basho
In the United States Golf Association's "Rules of Golf," Rule No. 13 is referred to as "Ball Played As It Lies." This rule prohibits improving the lie, the area intended for making a swing, the line of play or the area in which the ball is to be dropped or placed. In general, a golf ball should be played where it lands without any change to the overall situation.
As a result of Rule 13, we've witnessed incredible golf shots over the years as players adapt and improvise to their existing conditions. To having to "play it as it lies." Some examples: This one from Tiger Woods. This compilation from the LPGA. And this short doc about what some have called "the greatest shot in the history of golf."
When we lean in and EMBRACE our obstacles as opposed to merely enduring or worse, running from them, then we can create magic. To put it another way…the obstacle allows the magic to happen.
So, when life presents you with a difficult lie (and it will), you've got two choices:
You can do this.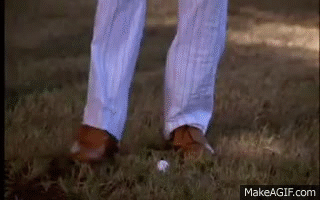 Or this.
You choose.
P.S. – It was only a matter of time before I found a way to incorporate Caddyshack–in my pantheon of great movies–into this blog. (Bonus points to anyone who identifies the character who uttered the above mentioned Basho quote.)